Area Information and Attractions
The 2007 Hypervelocity Impact Symposium will be held in Williamsburg, Virginia, September 23-27, 2007. The technical session will be conducted at The Williamsburg Lodge Conference Center located on the edge of Colonial Williamsburg.
Williamsburg is located centrally between Richmond (the capital of Virginia) and Virginia Beach (located on the shores of the Atlantic), Virginia. Williamsburg is part of Virginia's Historic Triangle which also includes Jamestown and Yorktown.
Recreation at The Williamsburg Lodge includes golf, outdoor pools, tennis croquet and lawn bowling. Included in the conference package will be admission tickets to the main portion of the Colonial Williamsburg attractions for the duration of your stay. By taking a short walk from The Lodge, you will step back in time to a thriving 18th-century community, the capital of England's largest and most important colony in the new world. America's largest living history museum offers an unparalleled view of daily Colonial life when it was a powerful center of politics, commerce and culture. Over 500 original and carefully reconstructed public buildings, private homes, taverns and shops, and 90 acres of gardens and public greens comprise the Historic Area. It is brought to life with tradesmen and historical interpreters in full period costume. A shuttle-bus service around the perimeter is available.
Colonial Williamsburg's Visitor Center is also the official gateway to America's 400th anniversary, marking the establishment of the first permanent English settlement in the New World at Jamestown in 1607. America's evolution from colonial status to nationhood is chronicled through a unique blend of timeline, film, thematic exhibits and outdoor living history at the Yorktown Victory Center. Special events throughout 2007 at both locations celebrate this momentous event and explore its role in the evolution of government, cultural and social institutions that characterize today's United States.
The Williamsburg area offers a variety of other activities, including Busch Gardens Williamsburg an action-packed, European-themed adventure park with 17th-century charm and 21st-century technology and shopping at the area's outlet malls. By taking drives one can explore America's Civil War history, maritime museums at Norfolk and Newport News, and the shores of the Chesapeake Bay or Atlantic Ocean.
Major airports are located within 45 minutes of Williamsburg. The average temperature range should range from a low of 57°F to a high of 78°F.
Links to some of the area attractions:
Colonial Williamsburg -
Busch Gardens Williamsburg -
Historic Jamestown -
Jamestown Settlement -
Williamsburg Golf -
James River Plantations -
The Mariners' Museum -
Presidents Park -
Virginia Living Museum -
Water Country USA -
The Watermen's Museum -
Outlet Malls -
Antique Shops -
Williamsburg Pottery Factory -
Williamsburg Soap & Candle Company -
Williamsburg Winery, Ltd. -
Yorktown Battlefield & Visitor's Center -
Yorktown Victory Center -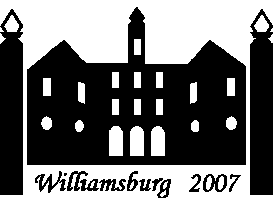 ---
Area Attractions
---
---
---
---
---
---
---
---
---
---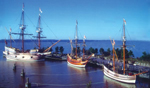 Images courtesy of Colonial Williamsburg, Busch Gardens Williamsburg, and Jamestown Settlement