2007 Hypervelocity Impact Symposium
September 23-27, 2007
Williamsburg, Virginia
The Hypervelocity Impact Symposium (HVIS) is a biennial event that is dedicated to enabling and promoting an understanding of the basic physics of high-velocity impact and related technical areas. Topics include:
Hypervelocity Phenomenology Studies
High Velocity Launchers and Diagnostics
Spacecraft Meteoroid/Debris Shielding and Failure Analyses
Spacecraft Shielding
Spacecraft Studies Space Debris Environment
Material Response (including EOS)
Fracture and Fragmentation
High Velocity Penetration Mechanics and Target Response
Armor/Anti Armor
Impact and Penetration
Analytical and Numerical Techniques
Asteroid Impact and Planetary Defense Technology
Penetration Mechanics of Shaped Charges and Explosively Formed Penetrators
This international event provides a forum for researchers to share and exchange a wealth of knowledge through oral and poster presentations, and commercial exhibits.

HVIS 2007, hosted by the Hypervelocity Impact Society's Board of Directors, meets September 23-27, 2007 at the Williamsburg Lodge Conference Center in Williamsburg, Virginia. The organizing committee has planned an outstanding program of technical presentations, keynote speakers, plenary lectures, evening activities, a Symposium banquet, a business luncheon, and companion program.
Conference Exhibitors: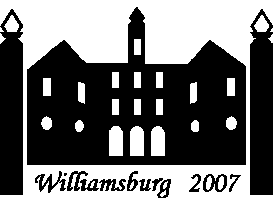 HVIS 2007 Home
---
---
---
---
---
---
---
---
---
---
---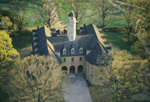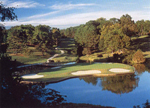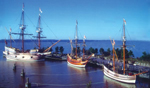 Images courtesy of:
Colonial Williamsburg, Busch Gardens Williamsburg and Jamestown Settlement.