Travel Options
The most convenient airport for travel to Sandestin Resort is the Fort Walton Beach Airport (VPS) https://www.flyvps.com.The airport accommodates over 50 non-stop flights daily to primary hub cities across the United States, making domestic and international connections easy.
The conference location is the Hilton Sandestin Golf Resort and Spa. A map of the driving route is given below. The shortest driving route is 27.6 miles and has two tolls to pay: Spence Parkway, which is toll by plate, and the Mid-Bay Bridge, which is $4 cash.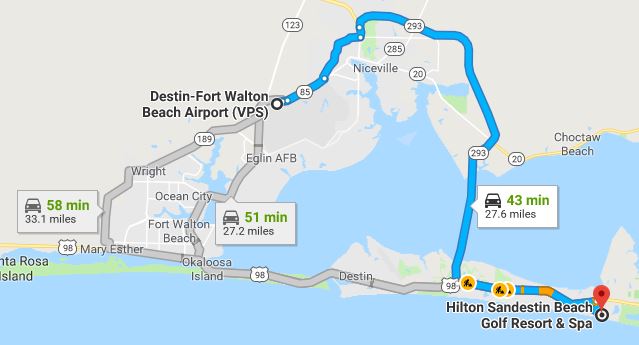 There is a guard gate at the entrance to the Sandestin Resort, located at the intersection of Emerald Coast Parkway (US Highway 98) and South Sandestin Boulevard. If you are staying at the Hilton, inform the guard that you are checking in at the Hilton, and you will be permitted to pass. If you are staying at the Luau, the check-in desk is located at the Sandestin Resort main check-in facility at the corner of Highway 98 and South Sandestin Boulevard (just outside and adjacent to the guard gate). There are a few different ways you can get from the Sandestin Resort check-in building to the Luau:
Take the Sandestin shuttle, it is free. The RED LINE stops at the Luau. The shuttle runs every 30 minutes until 10 PM on weekdays and until midnight on weekends.
Ask your taxi driver to wait while you check in. Check-in agents are typically very expedient at the front desk so the wait time should be short.
Walk. The distance from the Sandestin check-in building to the Luau is 0.6 miles (about a 13 minute walk).
Taxi, shuttle, and rental car options are given below: